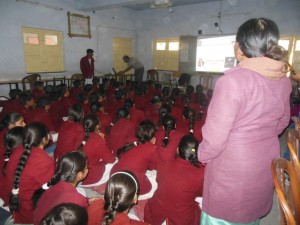 Tata ClassEdge—an innovative and comprehensive educational solution from Tata Interactive Systems (TIS)—is designed to help teachers deliver high quality instruction, with an effective blend of classroom activities and interactive multimedia demonstrations.
Based on the Multiple Learning Experiences Model—an instructional framework developed by Tata Interactive Systems—Tata ClassEdge aims to enhance students' social and thinking skills along with ensuring a thorough understanding of the curriculum content.
 Advantages of Tata ClassEdge
The use of multimedia in classrooms can improve learning and retention only when it is combined with effective pedagogy. The Multiple Learning Experiences Model—the Tata ClassEdge instructional framework—is based on the premise that students learn better through a variety of multisensory experiences, including hands-on activities, discussions, debates, creative and critical thinking activities, collaborative research, field trips and multimedia. The aim is to help create an active learning environment, with an effective blend of innovative classroom and outdoor activities, projects and multimedia. In fact, the product philosophy is closely aligned to the principles outlined in the National Curriculum Framework 2005 and CBSE's Comprehensive and Continuous Evaluation (CCE) Model.
The instructional strategies recommended by Tata ClassEdge are expected to help students engage actively with the curriculum content. Students participate in mastering key topics through a variety of activities.